C.M. de la Vega (School of Motion Graphics)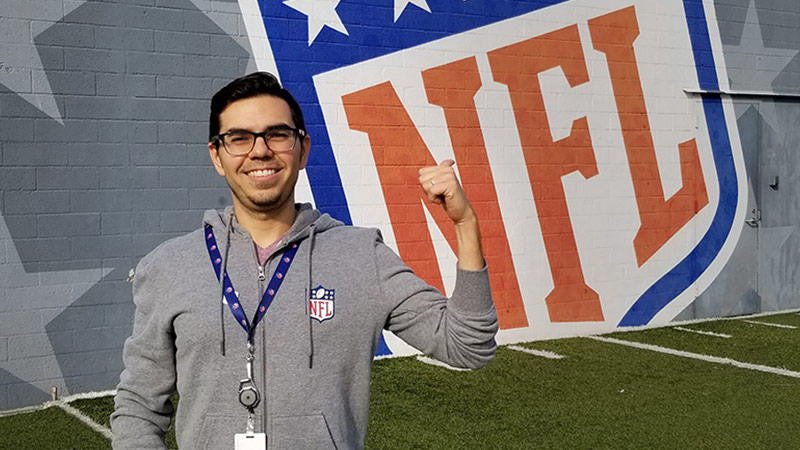 C.M. de la Vega,
Motion Design Artist,
Los Angeles, USA
Who ist C.M. de la Vega?
My name is C.M. de la Vega. I currently live in Los Angeles, California with my wife and I've been blessed with the opportunity to work as a motion designer for the NFL Network, Fox Sports, History Channel, Discovery Channel, NBC Telemundo and two ESPN 30 for 30 documentaries.
As a kid, I loved to draw and quickly fell in love with technology when my Dad brought home our first computer in the mid 90's, a 100 MHz Pentium PC. I spent hours doodling with Microsoft Paint back in those days. And as I grew older, I sought out a way to combine my love for art and technology.
Great Motion Design tutorials on his YouTube channel:
From school to today. The career of C.M. de la Vega.
Unlike many motion designers, I didn't follow the traditional path of attending art or film school. In the late 90's and early 2000's, computer engineering was an emerging and exciting major. I signed up hoping I could combine my interest in art and technology, but of course, engineering is all calculus and physics! Lol! I caught a lucky break in my junior year when I was able to convince my dean to allow me to take a 3D computer animation class as an engineering elective.
We learned how to model and animate in Maya and that class planted the first seed of what would later become my career in motion design. Two years after graduating college, I caught the filmmaking bug after I watched Robert Rodriguez's El Mariachi and his famous 10-minute film school. I learned all aspects of filmmaking, reading everything I could on the subject, from screen writing to visual effects.
This was the early 2000's, YouTube wasn't around yet, so I learned a lot from books and early online forums. Experience and failure are your best teacher, so I learned a lot from making my own short films. I also started incorporating motion graphics and visual effects in all my video projects. At that time, I was using Vegas Pro to edit and to create simple animations and although the motion graphics may have been a bit elementary, I learned the basics of compositing and animation.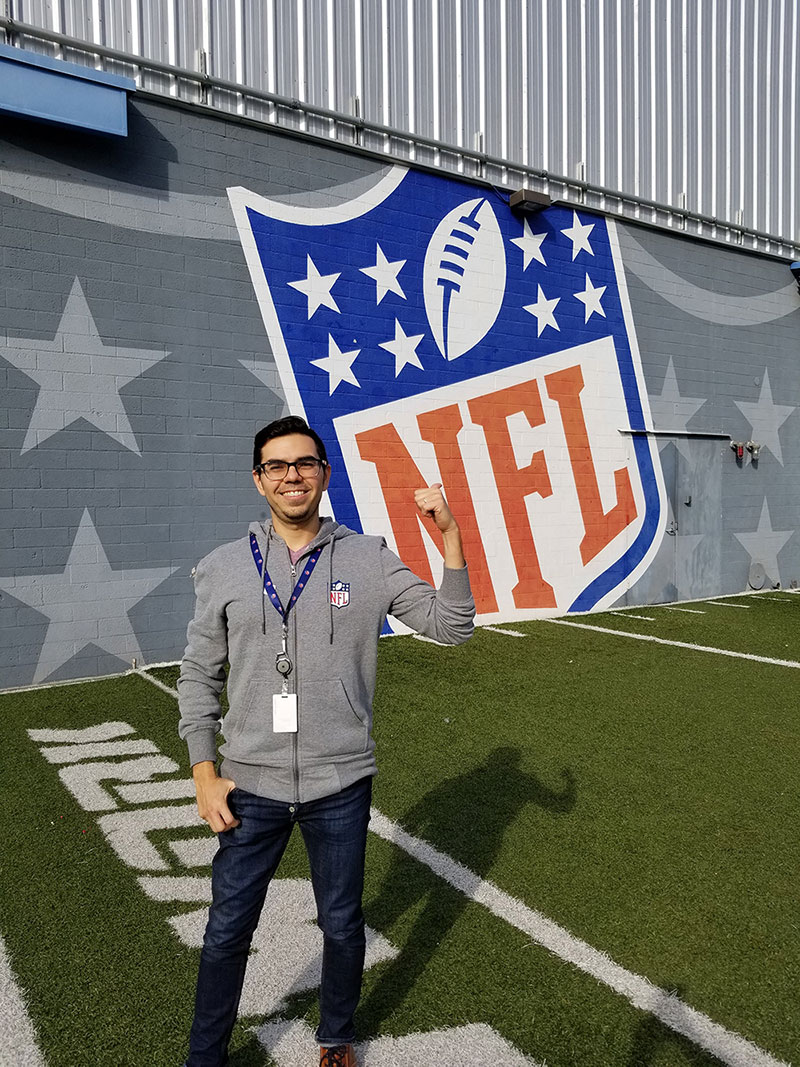 C.M. works as a motion designer for the NFL Network.
Since I started my journey in filmmaking in 2002, my dream was to move to Los Angeles and pursue a professional career in the entertainment industry. But it took a while to muster up the courage to leave my family and hometown of Miami, Florida. Back in 2007, Ubers, Airbnb, Waze and Smartphones didn't exist yet. It was a lot harder back then to make the plunge and move out to Hollywood without any job, car, friends or place to stay. I finally made the move in August of 2007 and it wasn't easy. I struggled to land a job and had to rely on my savings and odd jobs like tutoring algebra and calculus to make ends meet.
Five months later, one of my brothers came to visit with several of his college buddies. They were visiting several friends that were working in the industry. I met one of them and he mentioned that the production company whom he worked for was hiring a motion designer. He was kind enough to get me an interview. At that time, I didn't have a motion graphics reel so instead I showed them a reel of my short films that I had incorporated motion graphics into.
They took a gamble and gave me an opportunity. So, I landed my first job as a motion designer in early 2008. I didn't know anything in After Effects, so it was truly learning on the job, with the help of Video Copilot tutorials and my colleague, the seasoned veteran motion designer of the company. Thus, began my career in the field of motion design.
C.M. de la Vega about the job as a motion designer:
A motion designer in a lot of ways is a filmmaker. They direct your eyes to where they want the viewers' attention. Produces a piece that requires planning and many times storyboarding. A motion designer is also an editor who animates to music and sound and knows when to cut or transition to the next element.
And a motion designer is also an artist, who combines color, composition, light, techniques to create a work of art. His or her work reflects who they are.
When I signed up to major in computer engineering, I was hoping it would be the intersection of where art meets technology. Almost 20 years later, I realize that this intersection is motion graphics. After all these years, I'm finally doing what I've always wanted to do. I always strive to do my best on any project, exceed the client's original vision they initially requested and push the boundary.
For me personally, the hardest part of being a motion designer is the business side. Dealing with challenging clients, getting paid on time, getting paid your worth. Motion graphics is an art form, and like any art form, it's subjective and open to personal opinion and taste.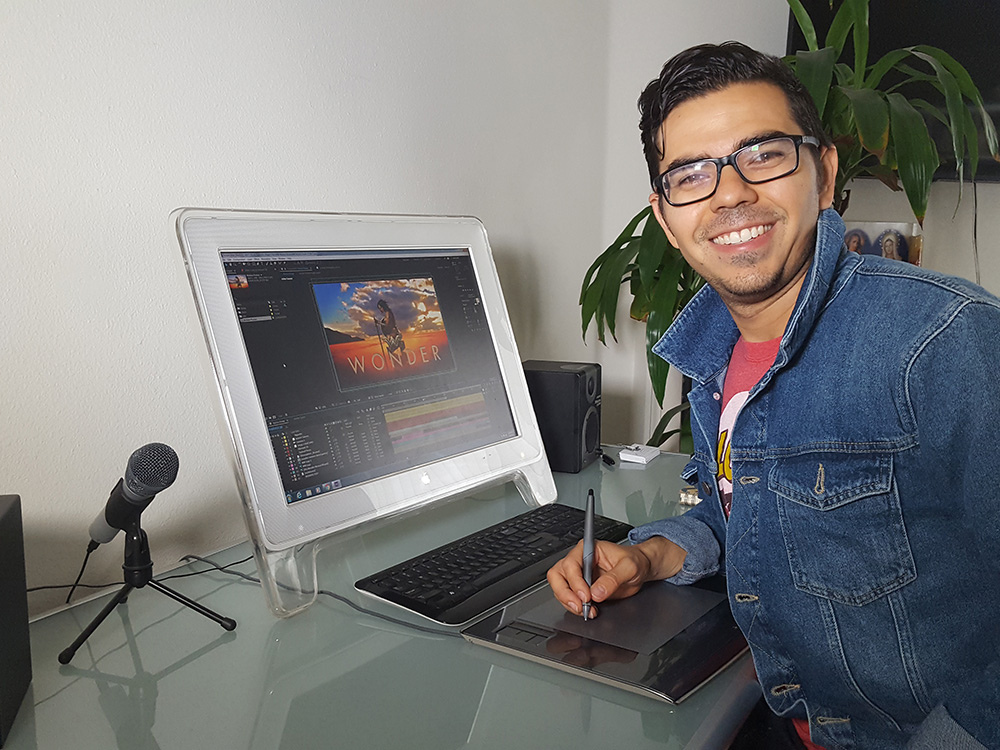 "Life is truly a gift. Make it count."
– C.M. de la Vega
About his YouTube Channel:
I never really set out to have a YouTube channel, especially on tutorials as I've always been a little camera shy. It just kind of happened, developing organically over the last six years.
In 2012, I worked on a documentary called 13 Million Voices, which was about the censorship of local musicians in Cuba. I was commissioned to create the motion graphics with the inspiration of street artists Banksy and Shepard Fairy. The producers were doing crowd funding for the film and wanted me to share my experience creating the graphics. I didn't think anyone would be interested in my experience (Lol!) so I decided instead to show how I created the graffiti street look for the documentary. It took me a week to do because I was so nervous talking and recording my voice! I probably had close to a hundred takes!
This became my first After Effects tutorial. The producers never used the video tutorial for their campaign and after sitting on my drive for several months I decided to upload to my YouTube channel in November of 2013. To my surprise, the video tutorial was well received with many positive comments.
I followed up a year later with another tutorial, this one on green screen and how I pulled off many effects for my brother's music video (he's a Christian hip-hop artist). To my surprise again, the video was well received. Many people commented on how the teaching style was helpful! I was very moved and thus began my journey of helping others learn After Effects. I've been blessed with many opportunities and this was a great platform to give back. I followed up with a couple more tutorials but because of work and social commitments, I couldn't consistently upload tutorials on a regular basis. I'm also somewhat of a perfectionist and that perhaps was another factor! I've also had to get more comfortable speaking. I'm not the best at public speaking or expressing myself and I've had to reach deep inside to make these tutorials. It's been truly a life changing experience!
But it wasn't until 2016 where I gave myself the goal of making at least 1 to 2 tutorials per month and commit to it. Last year was difficult as I dealt with a very serious health issue that sidelined me for 5 months. But in that period, I reached 10K subscribers. I felt it was a big gift of encouragement from God to keep creating the tutorials.
I'm starting to make product reviews and would love to do more videos on the business side and perhaps incorporate a mixture of vlogging.
About hard- and software
When I create motion graphics or visual effects, it's After Effects all the way! I have invested in the Red Giant Trapcode Suite and the Video Copilot duo of Element 3D and Optical Flares. Those two sets are my go-to plugins. I'm also starting to use some of Red Giant's Universe plugins.
I've always been a PC guy, ever since my Dad bought the family's first PC. I learned how to build PC's from my Dad, so all my rigs are custom built. The last rig I built was in 2013 so I'm overdue for a new one! But I still rock it because it was so ahead of its time, it still handles 1080p without a sweat.
When shooting for visual effects, I like to shoot two different options. First, the original crazy idea I have that I will have to pull off somehow in post and the second is a simplified version that I can always fall back on in case my first idea becomes too complicated or impossible.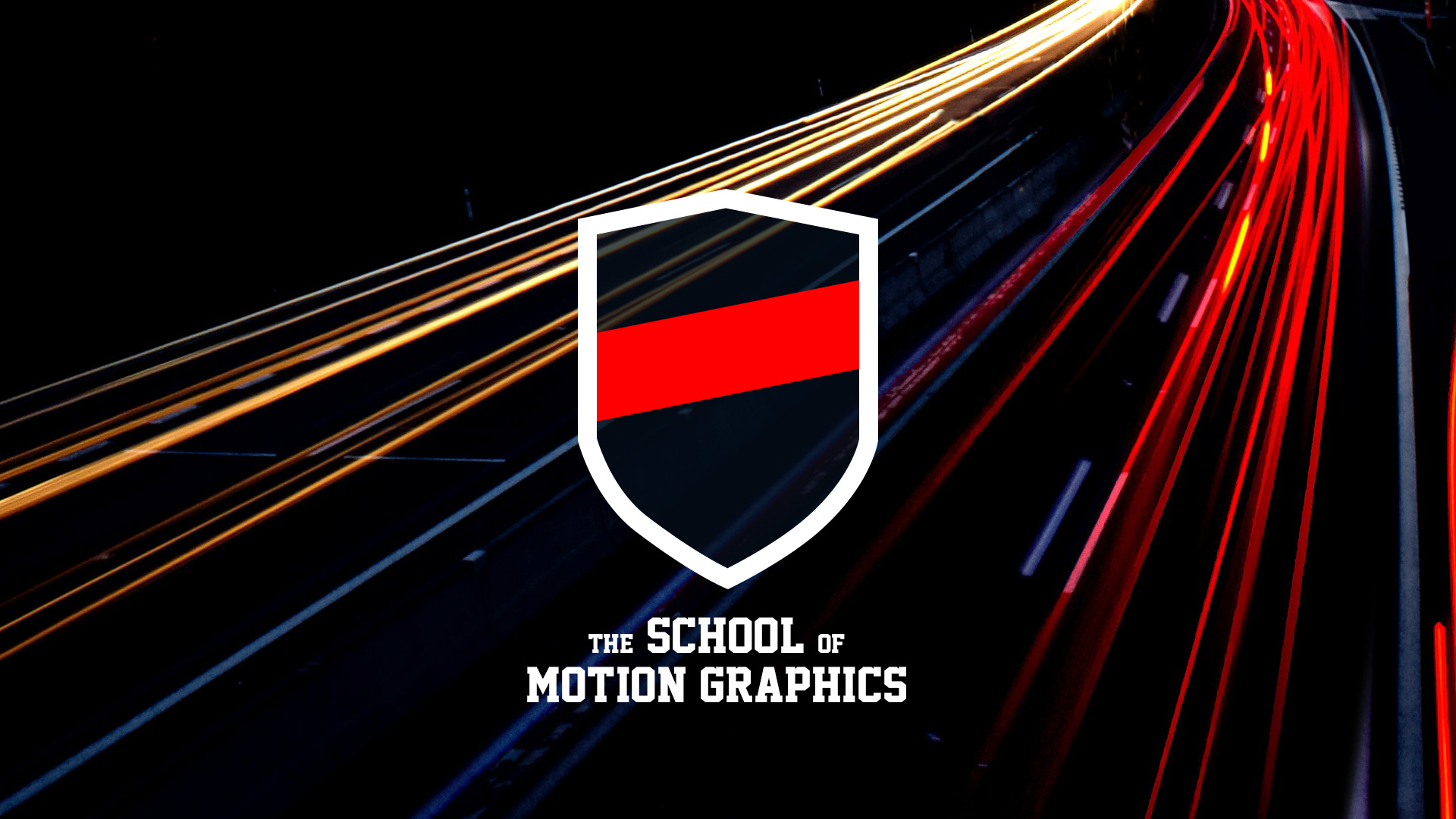 C.M. de la Vega is not only teaching After Effects and Motion Design at his YouTube Channel – He also runs the "School of Motion Graphics". Check it out: www.schoolofmotiongraphics.com
Advice for other creatives and After Effects users
My best advice to other AE users is to learn the keyboard shortcuts. It's not fun but it helps so much. I just recently learned 2 new ones that I'd like to share. To jump to the previous or next keyframe is J (previous) and K (next). To snap to the keyframes just hold on to the Shift button and drag.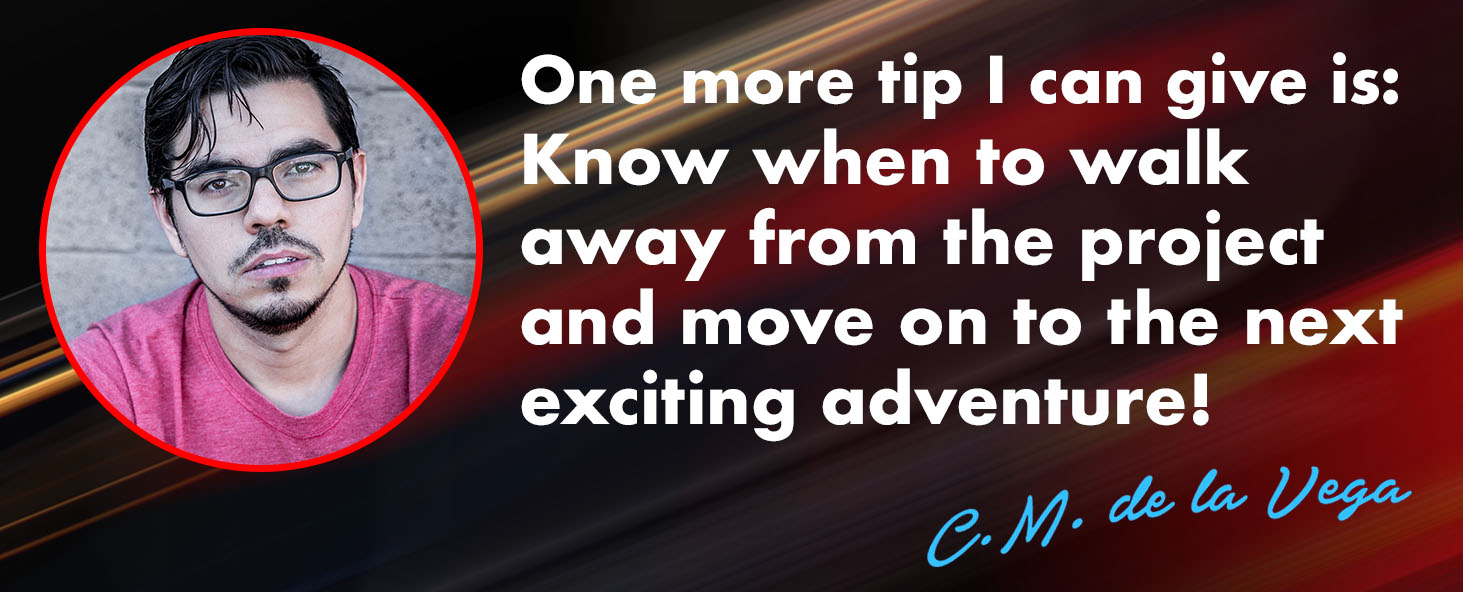 More about C.M. de la Vega and the School of Motion Graphics:
Interview between Carlos de la Vega and Daniel Münter (April 2020)
Carlos is talking about his new After Effects Course and answers a few After Effects related questions.
The Art of Motion Graphics